7 Ways to Make Your Porch the Perfect Hosting Space
If you are getting ready to create a new backyard living space centered around a porch, then we know how excited you are to start designing and adding custom features!
A backyard porch, whether it is open or screened-in, provides a unique area to host people, enjoy quality family time, or simply relax.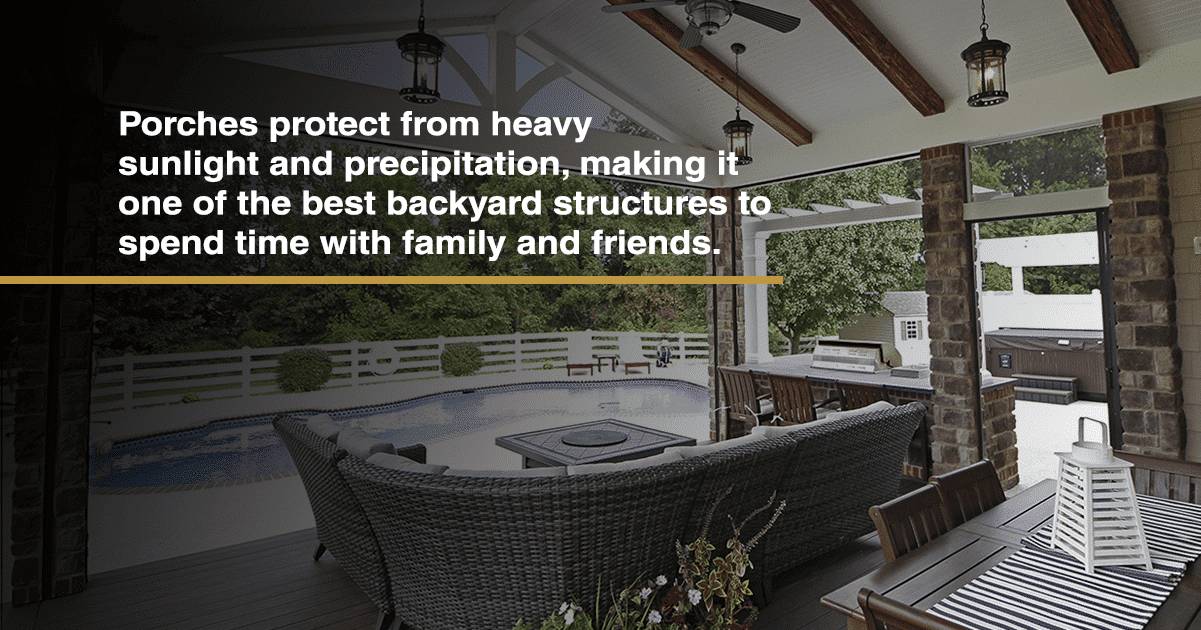 As you begin the design, or if you are modifying your existing porch, there are features available to take it from 'ordinary' to 'your perfect outdoor space.'
Some of these features provide a central area to gather around, while other features create ambiance or add personal style.
Keep reading to learn seven ways you can make your porch the perfect hosting space!
Many builders have a broad range of styles available at the start of the design process.  These pre-built designs are often beautiful and efficient, but they are usually based on templates.
At Keystone Custom Decks, however, our goal is to make your dream porch come true!  To do that you, you want to customize it to fit your style.
Many things can be changed on a porch to make it your style, starting with the components themselves.  For example, decking and railing can be customized in color, style, and texture.
But there is more that can be customized!
Additional features such as pillars with masonry features, roof slope and style, truss design, curved interiors, and more can usually be modified to fit your style.
If it looks overwhelming to go into all the design options, we understand.  That is why the design team at Keystone Custom Decks is ready to listen to your goals for your porch, and then discuss the options with you.  
Our goal is to walk with you in the design process so that you end up with the outdoor living space of your dreams!
In recent years, fireplaces have become more popular in porches and backyard living areas.
Fireplaces are either wood-burning or gas, and they work well in urban or rural settings.  In the design, they are typically placed at the end of the porch.
What benefits do fireplaces bring?
First, it brings a beautiful aesthetic.  Who doesn't enjoy sitting around a fire while talking or relaxing?
Second, it creates an intimate space.  Who can deny it - a fireplace invites good conversations and memories with loved ones!
Third, it creates heat.  A porch protects you from precipitation, and a fireplace takes the next step by adding warmth and coziness. 
If you design your fireplace with a chimney, it also provides an ideal place for your entertainment center.
Outdoor Entertainment Center
A backyard porch provides the perfect place to spend evenings with family and friends, and it also gives an ideal place to watch sporting events, your favorite TV show, or have a family movie night.
Porches can be designed to have entertainment built directly into the design.  The screen, sound system, and electronics are integrated seamlessly into the design.
You no longer need to worry about having a lot of extra routers, cables, or wires to trip over.  
Instead, have an entertainment center built directly into the structure and enjoy your next movie night!
Since you will use your porch most often in the evenings, this makes the outdoor lighting a critical part of your design.  
Unless it is the peak of summer, you will need outdoor lighting.  Having a fireplace creates some light, but you still need to choose your main light features.
Outdoor lighting allows you to have a truly intimate space for hosting parties or just spending quality time as a family.
Many times the majority of the lights are attached to the ceiling, but that doesn't mean you can't customize the lights!  
Lights can be either hung or recessed on the ceiling, and there are many styles available for both options.  Matching lighting fixtures are also available for porch pillars and columns to tie everything together seamlessly.
While porch furniture is not something often built into the design, it is important to think about the style of furniture you want and how it fits into the overall style.
Porch furniture and the accompanying decor helps set the tone for your outdoor space, and it plays a vital role in meeting your hosting goals.
Here are a few things to consider with porch furniture:
What style furniture do you want?  If you are unsure, check with your designer to see what furniture styles would fit best.
Do you want rugs on the floor?  While some prefer decking for the floor, others prefer a rug to create a more inviting and warm space.
What decor do you want?  We encourage you to keep your area fairly open and uncluttered, but adding some decor makes the space yours.  Plants are especially useful in adding your personal touch while keeping a natural feel.
When hosting friends and family on your new porch, one of the most anticipated items is food!  Who doesn't look forward to a juicy burger or homemade pizza fresh from the brick oven?
Adding a cooking station is a great way to grill and prepare food in your outdoor space.  While having a stand-alone grill also works, a dedicated grilling station or full outdoor kitchen takes your outdoor cooking and dining to the next level.
What makes a cooking station so unique?
First, it seamlessly integrates into your porch.  You don't have to worry about hiding the propane tank or having an outdated grill distracting from the outdoor beauty.  
Second, you choose the components.  At Keystone Custom Decks, we offer multiple cooking options like BBQ grill, smokers, searing stations, griddles, and more!
Third, it allows for easy access to food and drinks.  You can add options like shelf space, refrigeration, and even an outdoor kegerator!
While a grilling station or outdoor kitchen provides a space for cooking, an outdoor kitchen island provides space to prepare food, have additional storage, or a dining area.
Outdoor kitchen islands can include bars that provide eating space, or you can integrate it into your cooking station as counter space and storage.
Either way, kitchen islands are a great way to add fashionable counter space or a dining area into your porch.
Designing your porch is a lot of fun, but sometimes it can feel overwhelming with all the available features and options.
That's why the Keystone Custom Deck's team is ready to serve you! 
Our team has one goal - listening to your wants and goals for your outdoor living space, and then turning your dreams into a reality!
We are a Lancaster County deck builder specializing in building custom outdoor living spaces, whether it is a deck, porch, pergola, patio, or more.
Schedule an estimate today with our sales team, or stop by our porch and deck showroom!