20 Deck Accessories & Decorations For Your Dream Outdoor Space
Having a custom deck is only part of building your dream outdoor living space for your home and backyard.
The other part is finding the accessories and decorations to make it perfect!
If you need ideas to make your deck a dream outdoor area, you are in the right place.  In this article, we'll look at twenty possible deck accessories and decorations to include or add to your deck.
Are you ready to start making your dream deck a reality?  Let's get started!
*Feel free to read through the whole article and look at the pictures, or simply click the feature below that you would like to learn more about.*
Adding umbrellas to your deck, especially when combined with a picnic or patio table, is a great way to add a practical yet beautiful piece - they provide a sunshade while adding style to your deck.
Umbrellas bring several benefits to your deck:
They provide shade protection

They create a focal point on the deck

They establish a visual transition from the house roof to the deck

They help break up large deck surfaces with color
With a wide variety of colors and patterns available, you can find the outdoor umbrella to customize your outdoor space!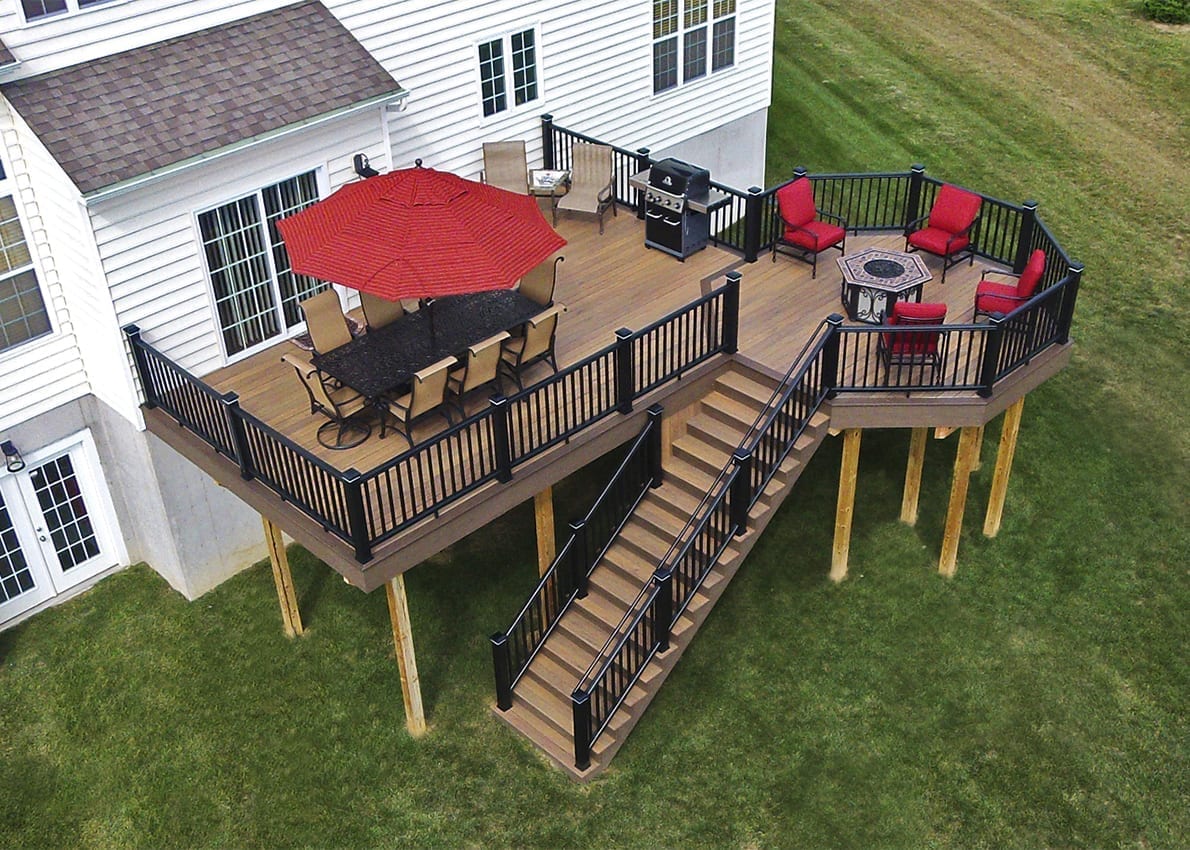 Composite decking comes in various colors, textures, and styles, but it never replaces a beautiful area rug!
Picking an outdoor, weather-proof rug allows you to introduce bright colors and unique patterns to your deck or porch surface.
An outdoor area rug also helps bring ambiance and a level of coziness to your outdoors.  
It also mirrors a living room by creating a cozy and intimate seating and social area for your backyard.
After your actual structure, choosing the right outdoor furniture for your deck is a critical choice.  
After all, what good is a beautiful custom deck if you have old lawn chairs or outdated furniture?
When choosing outdoor furniture, it is critical to keep several things in mind:
Make sure the furniture is weather-proof and resistant to precipitation and fading.

Think beauty and function.  For example, high-top barstools pair well with a drink rail to provide a fashionable sitting and drinking area.

The colors and style should blend in with your outdoor space and home.

Don't choose only based on style - make sure the furniture is also comfortable!
When it comes to outdoor furniture styles, there are many types available.  Some of the most popular are weather-proof poly furniture, sleek aluminum pieces, or increasingly popular rope furniture.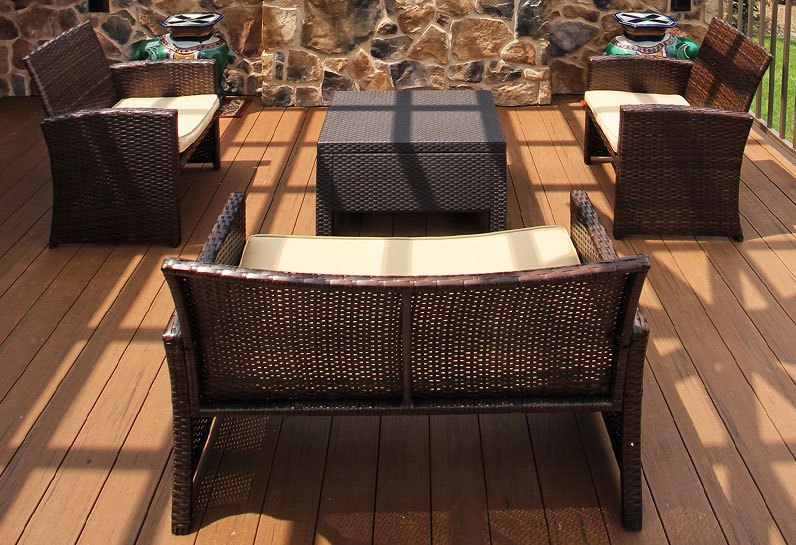 TV & Outdoor Entertainment
By adding a TV and entertainment system to your outdoor space, you officially bring the living room to the outdoors!
When considering adding an entertainment system, think about the system's placement and mounting.  
At Keystone Custom Decks, we typically mount TV screens on brick or stone structures, such as a fireplace or adequate stone feature.
If you want to add a TV, entertainment, or sound system to your outdoor area, make sure you get a water and weather-proof system.  These cost more than typical indoor systems, but they are made to withstand the outdoor elements and nature!
Outdoor pillows take your outdoor furniture to the next level by providing unique colors, patterns, and accents to your outdoor space.    
Similar to using pillows to help decorate your living or family room, pillows also add the finishing touches of style to your outdoor seating areas.
Your outdoor area won't have as much wall space for pictures and artwork, but depending on your structure, you can still include a few strategic pieces.
The purpose of the pictures or artwork is not to clutter your outdoor space or distract from the beauty of the outdoors.  Instead, like other decor on your deck, it should complement your outdoor space with style and color.
Like a TV, you should have an available fireplace, stone feature, or wall to hang your artwork or photos.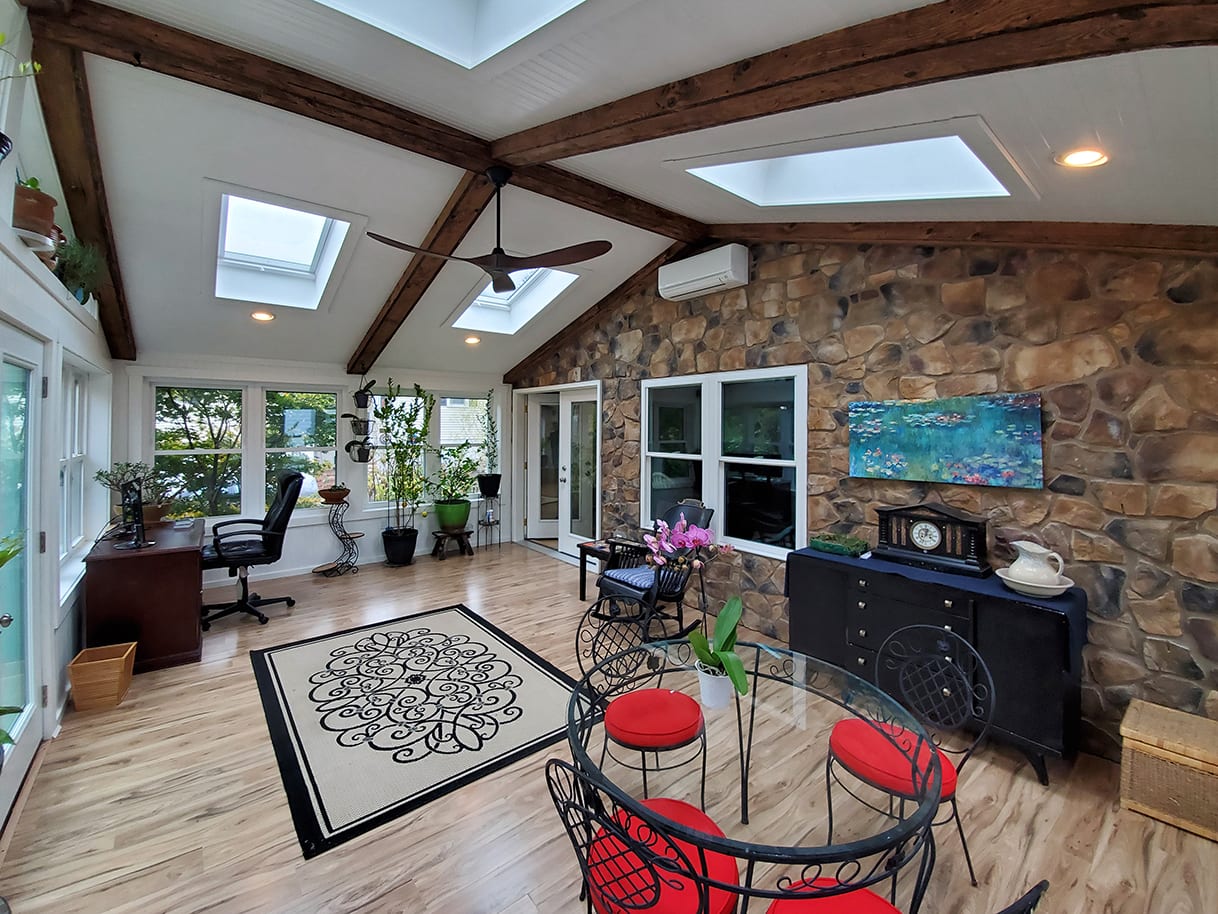 Many people think sports memorabilia belongs in a "man cave" or office, but it can provide some class to your deck depending on your decorating style.
Like other deck decorations, you don't want the memorabilia to distract by being too loud or large.  If you wish to include outdoor memorabilia, we recommend using smaller pieces.
Common sports pieces found outdoors include flags, rally-towels, rugs, photos, and more.
You also need to keep weather factors in mind - make sure the items are weather-proof before you bring them outside!
If part of your deck has a roof, or if you have a porch or pergola over part of your deck, using full-length sashes or large curtains add elegance and privacy to an outdoor sitting area.
Some curtains help block sunlight in the late afternoon or evening, some improve privacy, and some simply add to the outdoor beauty.
No matter your reason for buying them, outdoor sashes and curtains transform your outdoor seating area into a secluded retreat!
Most parties focus on food, drink, and conversation - but don't forget the games!
Games such as cornhole, ladder toss, bean bag toss, and other casual yard games are perfect for any gathering.  
When it comes to storing the games, some people have a place for built-in storage, keep them in their garage, or store them under their deck.
Some people like to practice their golf game by adding a portable golf putting green to their deck, especially on longer areas. 
If your deck has enough space, having several outdoor games available takes your family time and parties to the next level.
Having the correct lighting on your deck and outdoor area is essential for creating the right mood as the day fades into night.
Fixed lighting is usually included and built into the deck structure during construction, so you want to discuss this with your deck contractor during the planning stage.
However, most electricians or deck builders can install fixed lighting to your deck if you want to change, add, or upgrade your outdoor lighting in the future.
Common examples of fixed deck lighting include the following:
Step lighting

Railing lights

Overhead lights, especially if you have a porch roof

Recessed wall lighting if you have a retaining or seating wall

Larger floodlights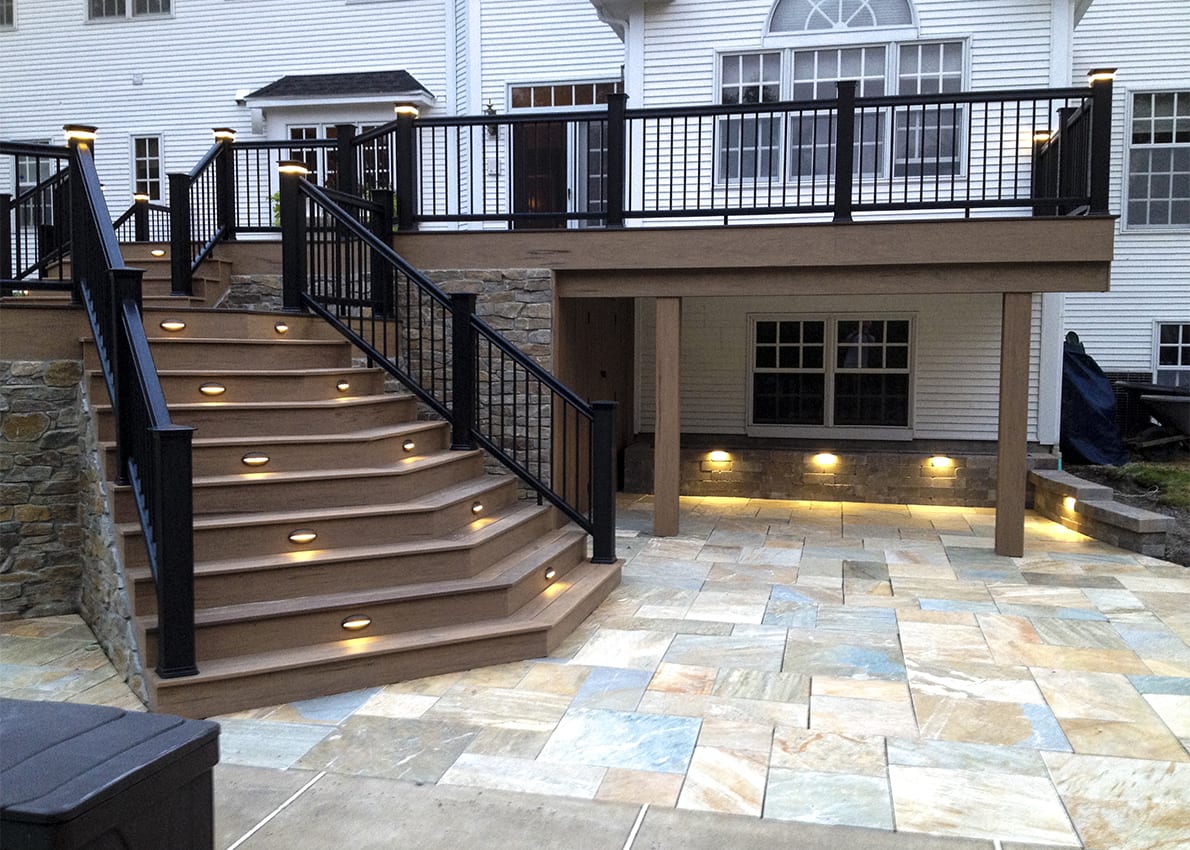 While portable lighting may seem similar to fixed lighting at first, it is different for several reasons:
You can move it around or change it depending on the season or style.

Portable lighting allows for more customization.  You can have soft lighting for a dinner event one evening and then switch to brighter lights for a game party another evening.
Common examples of portable lighting are candles, tiki torches, torches, luminary lights, string lights, and other easily-moved lighting.
Many people like to use their deck and outdoor area for more than just the summer season.  During colder temperatures, however, you need a heat source to take full advantage of your deck.
While you may have a permanent heat source, such as a fireplace or fire pit, having a deck heater is an easy way to add style, light, and heat to your outdoor events.
Many deck heaters are portable and run on propane gas, making most of them easy to move and keep fueled.
There is a wide variety of deck heater styles available, so make sure you choose the heater(s) that fit your deck and existing decor!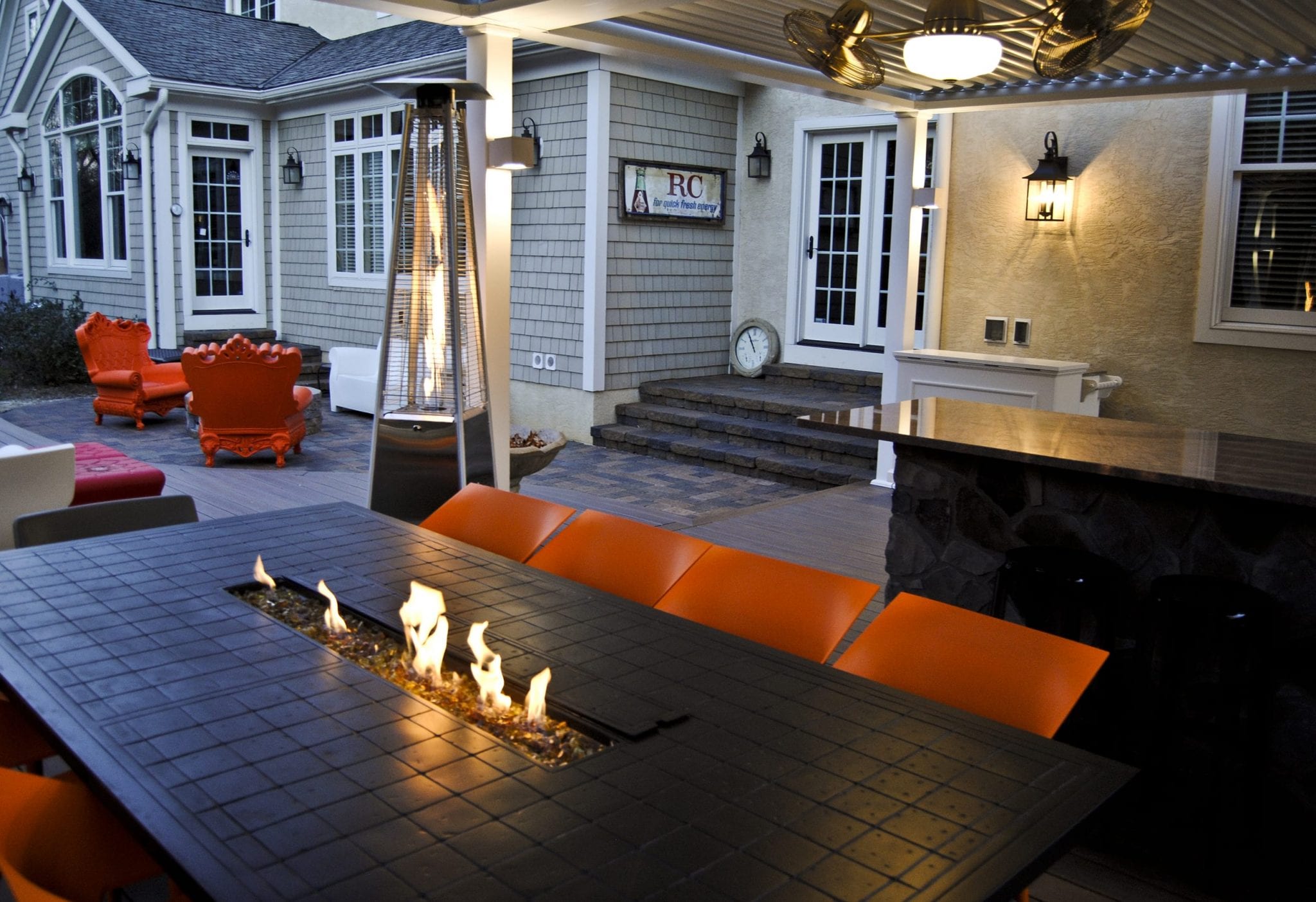 For those who enjoy plants and have a green thumb, having potted plants placed around your deck is a natural way to add life and attractive colors to your deck.
Whether they are hanging from a rafter or positioned on the floor, potted plants introduce different types of greenery to your outdoors and complement your permanent landscaping.
An added benefit of potted plants is switching them out depending on the season.  Moving plants indoors during colder seasons also allows you to enjoy them year-round!
The grilling station is a critical part of any outdoor living space.  No one wants to attend a deck party if there isn't good food from the grill!
When it comes to grills, your range of options are is endless.  No matter the size, fuel type, or features you want as the chef, you are sure to find a grill to meet your needs.
One thing to consider as you design your deck is including a built-in grill and cooking station.  
Also referred to as outdoor kitchens, built-in grills provide the complete outdoor cooking experience while integrating seamlessly into your deck's design.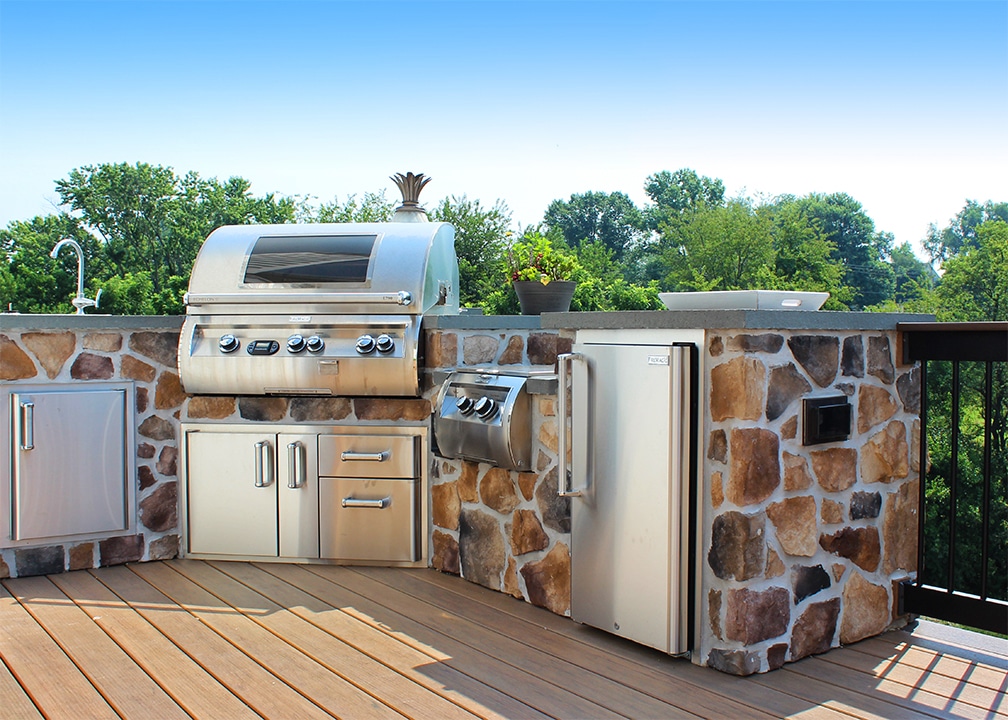 Drink rails take your hosting and entertaining game to the next level.  
Like they sound, they turn your railing into a drinking or eating area by turning the deck railing into a flat and usable surface.
When combined with bar stools or chairs, a drink rail creates a beautiful and stylish area to entertain, unwind, and enjoy food and drink.
Adding a fire feature to an outdoor space creates a majestic centerpiece on a deck, porch, or patio.
Usually made from stone, fire features introduce a solid, beautiful focal point in your backyard.
The most common fire features are fireplaces and fire rings.  Both of these are usually available in gas-burning or wood-burning fire features.
Having a fire feature in your outdoor design adds light, warmth, ambiance, and the perfect place to make a s'more!
If your deck has a ceiling or beams, adding ceiling fans is a great way to stay cool on warm days and evenings.
And don't think they are only used to move air - outdoor ceiling fans are available in a variety of colors and styles to match your deck!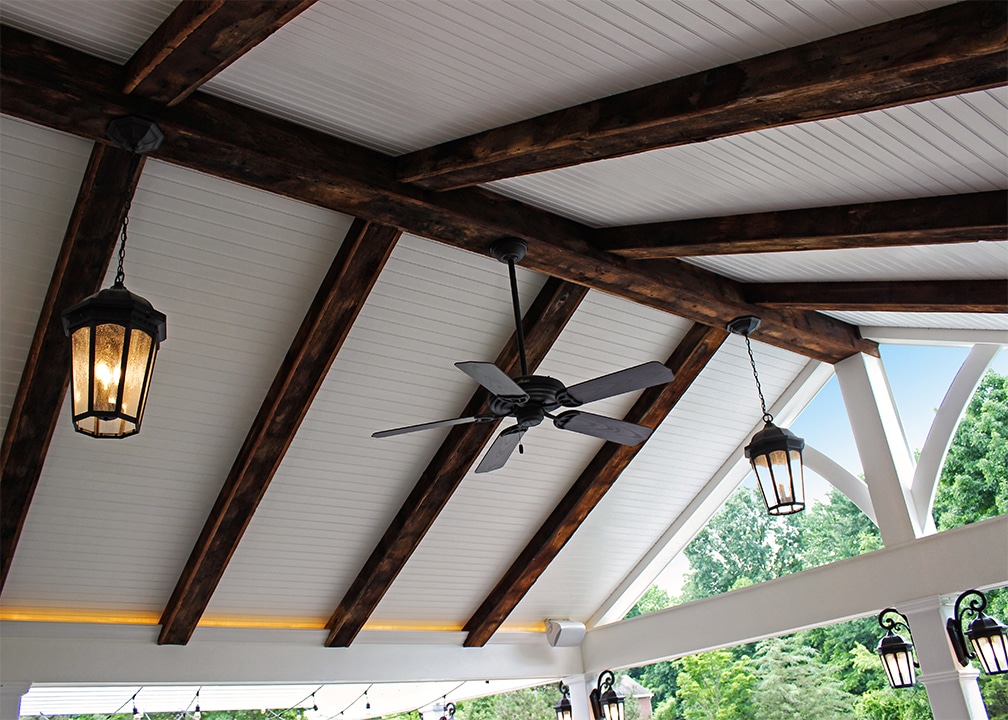 If you want to add the next level of style and intimacy to your deck and outdoor area, consider building a pergola over it.
While pergolas provide some shade, their main benefits come from the style and intimacy they bring to an area.  Having a pergola is an invitation to relax on your deck!
Depending on the design and build, pergolas create the frame you need to hang lights, install ceiling fans, or attach art or sports memorabilia.
Like pergolas, adding a gazebo to your deck creates an intimate place to relax, unwind, and enjoy good conversations.
Unlike pergolas, gazebos provide better shade and weather protection with their covered roofs.
If you want to create an inviting area to relax on your deck, a gazebo paired with comfortable outdoor furniture is hard to beat!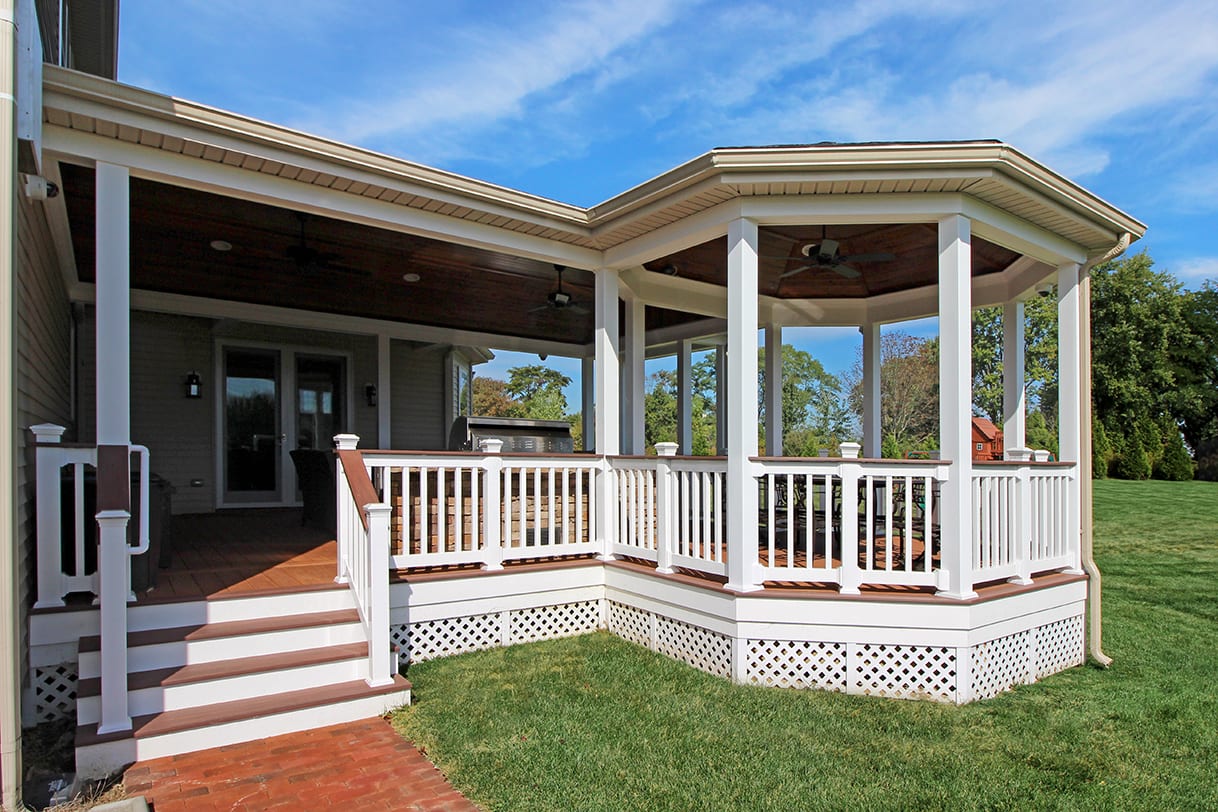 Outdoor Shelving & Storage
Depending on what you have on your deck, you may need some shelving or storage options.
Some features, such as an outdoor kitchen, include built-in storage into their design, but you may be looking for more options to store games, books, supplies, and other small items.
Like other deck accessories, adding shelving and storage doesn't have to be boring - there are plenty of unique, stylish, and creative ways to add deck storage.
If you aren't sure which storage option fits your deck, visit your local hardware store, browse several furniture stores, or do an online search for the specific features you want.
No matter your goals for your deck, porch, patio, or other outdoor areas, having the right accessories and decorations takes it to the next level!
If you don't currently have your dream outdoor living space, or if you want to upgrade your existing deck, contact the team at Keystone Custom Decks!
We provide custom decks and outdoor living spaces in PA, NY, MD, NJ, and DE.  We would love to hear your dreams and help make them come true!
Whether it is a composite deck, covered or screened-in porch, paver or concrete patio, outdoor kitchen, pergola, or one of the many other features we build, we would love to hear from you.
Visit our website to schedule an estimate, visit our showroom, or view our Project Gallery for more inspiration.