Deck & Porch Colors – 17 Principles For The Perfect Color Design
As you begin designing a deck or porch for your home, there are a lot of things to consider with the features and layout.
Having a clear picture of your goals for your new outdoor space is essential, whether it is thinking of the general style, features you want included, or colors scheme. 
When it comes to colors, many people aren't sure where to start.  There are a lot of options and color styles, and no one wants a deck or porch that doesn't match their existing home.
If you are worried about choosing the right colors, don't worry, the Keystone Custom Decks team is here to help!
In this article, we are going to cover a wide range of things to think about when choosing your deck and porch colors.  We will look at common questions, mistakes, and general principles to follow. 
We end the article by discussing how you don't need to do this color design entirely on your own - our team is ready to help you create your dream outdoor space.
Let's get started learning how to create the ideal color scheme for your new deck or porch project!
Getting Started With Your Deck & Porch Design
Before we go too far in designing, there are several general things to consider and ask yourself in regards to your long-term home plans.
Does the color scheme you have in mind fit with your current home's style?
Most homeowners begin the process with a general color scheme in mind, which is good.  After all, you need to start somewhere!
As you think about the colors, you need to ask yourself if they fit your existing home's style.  This is a critical part of developing your color palette - it needs to complement your current home.
If you are unsure if the colors you have in mind fit perfectly with your existing home, that is OK.  When a Keystone salesperson visits your home to give your estimate and initial design, he will have color samples and be able to guide you further in this process.
Do you have any future remodel plans for your home?
Adding a new deck or porch is a type of remodeling, but you want to think about your future home plans.
Do you have plans to replace your siding, redo your roof, add larger windows, etc.?
If you have a home remodel in the future, this remodel affects the color scheme you choose.  You want your new outdoor project to fit with your home after the remodel is completed.
For example, let's say you plan to replace the siding in the next 1-2 years, and you know you want a different color.  Having the new siding color is essential when designing your deck or porch color.  
You don't want your new outdoor project to look nice with your home for five years, but then not match your new siding for several decades!
If you have remodeling plans in mind, let the Keystone sales team know right away, and they will help you create a color scheme to stand the test of time.
As you plan your new outdoor space and think about the features, style, and size you want, don't forget to also think about the colors.  
Here are several guidelines to help you get started, but don't forget - our team is available to assist in this process! 
The decking color should contrast your primary house color
A common mistake is having the decking color be the same as the house.  This was especially common with wooden decks where the stain used matched the house color.
When choosing a decking color, you want a nice complementary contrast to your home's color.  This breaks up the color scheme of your home and prevents your home and new deck from creating a giant "visual slab" of color.
The deck border can also complement both the decking and house colors
After you have the decking color chosen, the next step is selecting the border color.
The goal for the border is to create a complementary contrast for two things - your new decking and your existing home.  
One of the most common border colors is a shade of white.  Many siding and decking colors are non-white colors, and having a white border creates a nice contrast for the rest of the project.
If your home has white siding, or if you do not want a white border, our team can show you samples of other border colors to fit your deck and home.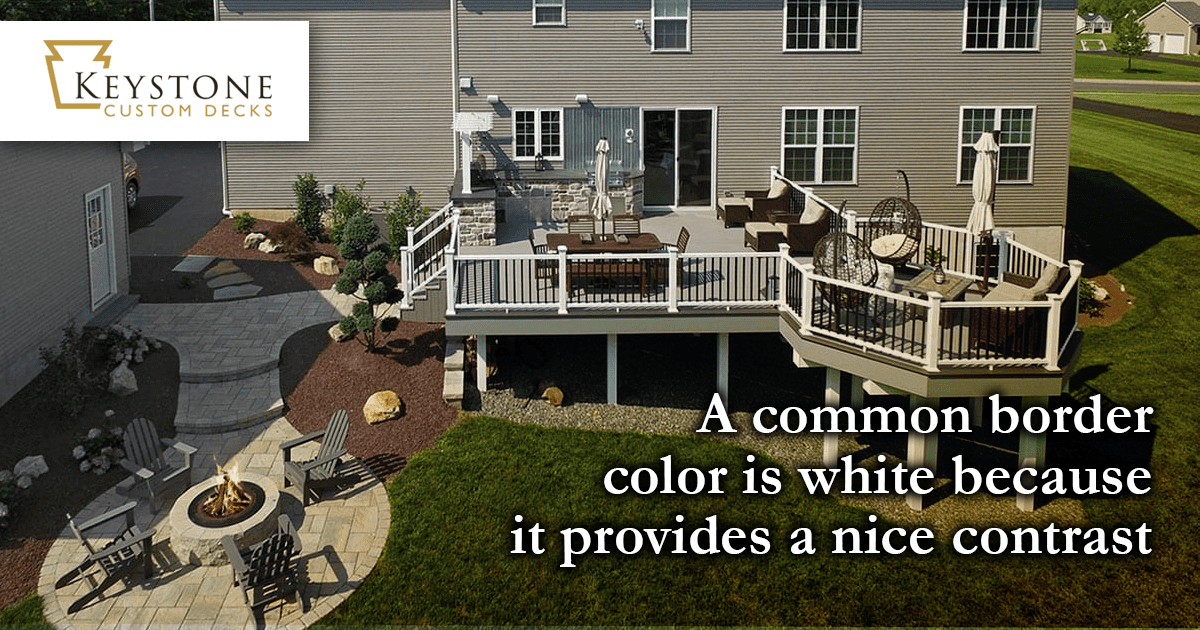 When adding a porch to your home or deck, it adds a new layer when planning your project's design and color scheme.  
Because a porch has a roof, beams, and more structural elements than a deck, there are additional things to consider when choosing a color palette.
Let's take a look at some things to consider with your new porch.
What color should the porch roof be?
Thankfully, this answer is pretty simple!
If you choose a shingle roof, which is typical for most porches, then you simply want the color of the porch shingles to match your home's shingle color.
Metal roofing is available, and this is the better choice if you want to add a classy, unique, or vibrant color to your porch roof.
The porch's decking and border follow the same guidelines as a deck - a nice complementary contrast to your home
Many times a porch is built together with a deck.  If this is your situation, then it is best to use the same decking and border for the whole project.  This keeps your outdoor space from becoming too busy or colorful and distracting from its beauty.
So what happens if you are building a stand-alone porch without a deck?
In this situation, the same rules apply as to a deck:  The decking should be a pleasant contrast to the home's primary color, and the border should complement both the decking and home.
The porch structure, trim, and fascia should match your home's color
So far, we have been mostly choosing colors that make a nice contrast with each other and your home's existing color scheme.
When it comes to the porch's structure and trim work, this changes.
Most times, the goal for the support beams, framing, trim, and fascia is to have a match similar to your home's color.
Remember - you already have several contrasting colors with your decking and border.  You don't want to introduce too many colors to your outdoor living space and lose the beauty or natural aesthetic.
Instead, you want the porch to have the proper contrasting elements but still look and feel like it was always a part of your home.  It should be adding to the beauty of your home, not distracting from it by introducing too many new colors.
The color of the railing is one of the last things to consider when choosing your color scheme, and in some ways, it is the least complicated color to choose when following our guidelines.
Don't let the railing distract from your new deck or porch
This is the main thing to avoid when you think about choosing a railing color.  Choosing the wrong color distracts from your new outdoor space and turns the focus on the railing instead.
To keep the focus on the actual living space, the most common railing color is black with white accents.  This color combination keeps the railing looking elegant without distracting from the overall project.
Popular Deck Colors & Styles
A common question we receive at Keystone Custom Decks is how color schemes fit various deck, porch, or home styles.
To answer this question, let's take a look at four of the most popular porch and deck styles and the colors associated with them.
Modern Style
The modern style focuses on solid colors that are smooth and streamlined.  
Modern colors are typically blacks, grays, and whites.
Notice the sleek, sharp, and clean design of this modern deck and pergola project (click here to view more photos of this project). 
---
Traditional Style 
A traditional style focuses on an older style, such as a farmhouse setting or colonial home.
Colors for a traditional style are browns, whites, and natural tones.
This traditional style porch uses earth tones and a farmhouse interior with wood and stone (click here to view more photos of this project).
---
Contemporary Style 
The contemporary style is a blend of modern and traditional styles.  
For example, if you have a traditional-style home like a farmhouse, you can build a modern-style deck or porch.  Your traditional home combined with a modern outdoor structure creates a contemporary style.  
The opposite is also true.  If you have a modern home, you can incorporate a traditional-style outdoor space for a contemporary style.
This contemporary project uses a traditional-style fireplace and roof with a modern kitchen and flagstone patio (click here to view more photos of this project).
---
Rustic Style
Choosing a rustic style generally focuses on nature, and it uses a natural color scheme.
Colors for a rustic style are natural tones, shades of brown, and a weathered aesthetic.
This beautiful rustic covered porch uses natural earth tones, wooden features, and is designed to blend into the surrounding environment (click here to view more photos of this project).
Here are a couple of additional things to consider as you think about choosing colors.
How much of a role does landscaping play in choosing the correct colors?
Unless your home is in a wooded or unique natural environment, your home's landscaping has little effect on your color scheme.
What do we mean by a wooded or unique natural environment?
If your home is in a setting with a lot of natural beauty, such as in the woods, overlooking a lake, or nestled into picturesque mountains, then you don't want colors to distract from the natural beauty surrounding your home.
In these situations, you want to consider natural colors and designs that draw attention to nature around you.  You don't want the focus to turn towards your home or outdoor space.
For the majority of homeowners, however, this situation does not apply, and the focus should be on complementing your existing home.
What about the color of my porch ceiling?
We recommend keeping the ceiling a white or lighter color.  White reflects light well and helps keep the porch feeling airy and spacious.
If the porch covers several of your home windows, keeping a light and airy ceiling is especially critical. The design needs to focus on allowing as much light as possible to enter the home.
How Keystone Custom Decks Is Here To Help
At Keystone Custom Decks, we understand the importance of customizing your dream outdoor living space.  It doesn't matter if it is a deck or porch, or what additional features you include, we know you want the custom outdoor living space of your dreams!
This is why we offer the following services to our valued clients in PA, MD, DE, NJ, and NY:
Professional Design Team
We want your outdoor space to be your dream come true, but we also know it is challenging and overwhelming to do all the work yourself.
That is why we listen to your dreams for a deck or porch, the features you want to be included, and the overall style you want.
Our professional design team works with you to help make your dream come true and look beautiful in the process!
Outdoor Living Showroom
Located in Lancaster County, PA, our Outdoor Living Showroom is a one-of-a-kind experience when it comes to creating your outdoor space.
With a wide range of examples and available styles, including multiple color schemes, you can truly experience the available features and receive inspiration for your outdoor project!
Stop by our showroom any time, or schedule a showroom visit.
3D Renderings Available
One of the things we offer during the sales process is a 3D rendering of your project.  
This rendering allows you to see your project come alive, and you can make any changes to the design, features, and colors before construction even starts.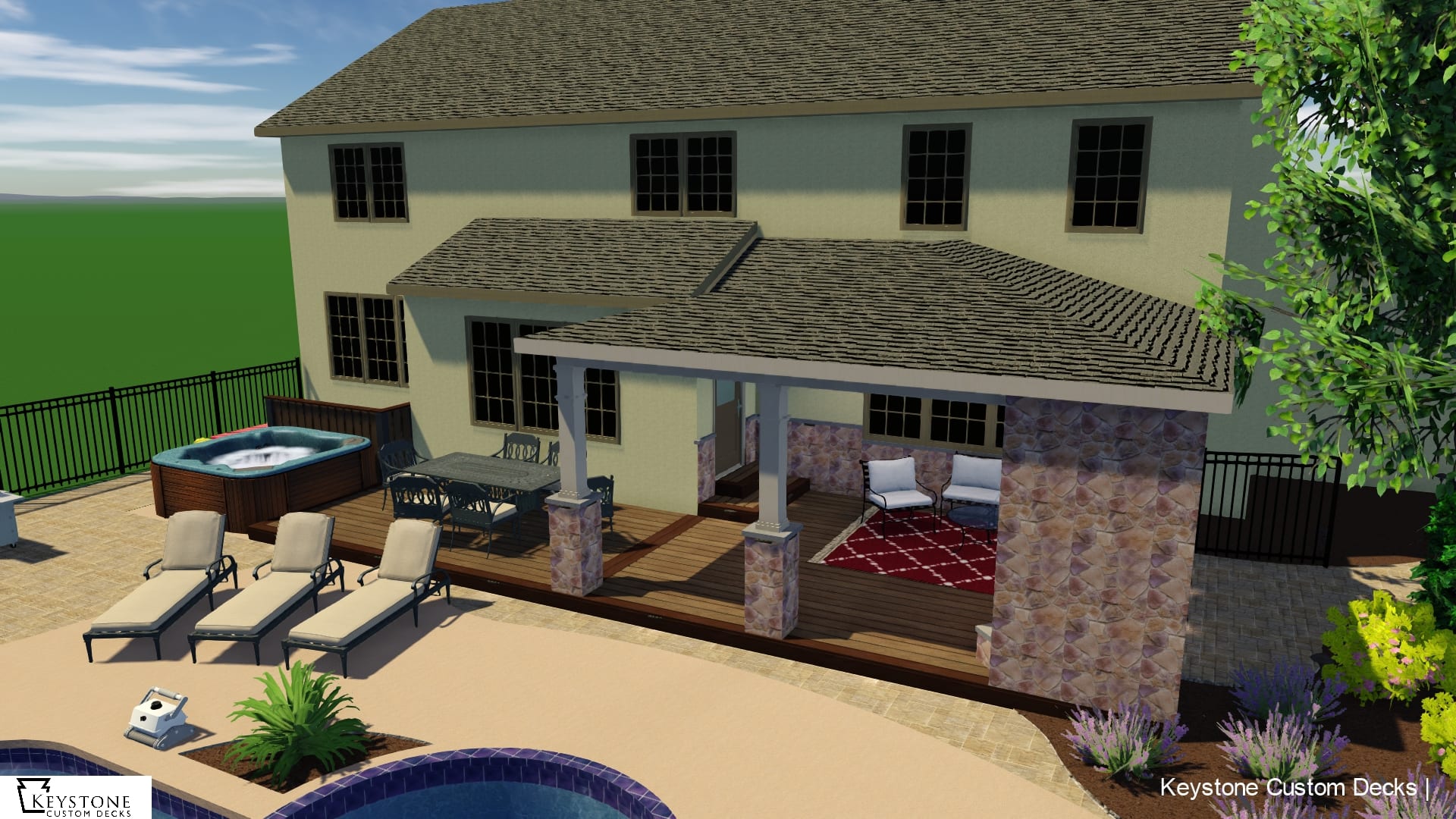 As you think about designing your ideal outdoor space, it is easy to focus on the main features you want to include, such as an outdoor kitchen, fireplace, or many other features.
While these are often the centerpieces of a porch or deck, don't forget choosing the right color palette is also important!
When you are ready, our team at Keystone Custom Decks is prepared to help you through the whole process.  As a custom deck builder in PA, MD, NJ, DE, and NY, our team is ready and prepared to make your outdoor dreams come true!
Contact us today to schedule your estimate and get started.