When you see a showpiece deck, porch, or patio, you don't see the planning, drafting, and design that made it come together — you only see a gorgeous finished product. But behind every stunning project is hours of planning and dreaming — as well as the outdoor living design that made it possible. That's what we're here to explore.
At Keystone Custom Decks, we build the one-of-a-kind outdoor living areas that our clients will love for decades to come. In addition to our elite construction skills, our outdoor living space design is the major factor behind our signature projects. Read our blog to get some ideas about how to design your outdoor living space like the pros — and reach out when you're ready to make your dream space a reality!
How to Design Your Outdoor Living Space
While we can't teach you how to design your outdoor living space exactly like our designers, we can get you started on the right track. These are the questions that our skilled deck designers would ask you that form the foundation of the final outdoor living design.
How Will You Use Your Space? — This is an essential first question. The way you intend to use your space determines almost everything about how we'll build it. For example, if you're planning to host your fair share of parties, you'll want to accompany a large open deck with a secluded seating area. However, if you want a "living room, but outside" feel, you'll want to include a cozy covered patio, complete with a TV and a fireplace.
What's on Your Wish List? — This is a once-in-a-lifetime project — so, what accessories can't you live without? Deciding on the extras you want ahead of time ensures that they are included naturally in the overall design. Some of the most popular wish list-worthy accessories include:

Built-in Grill / Outdoor Kitchen
Bar Seating
Pergolas
Water Features
Hot Tubs

What's Your Plan for Access Points? — An important practical decisions to make about your outdoor living design is how you'll access the outdoor space. Generally, you'll want at least one access point that leads from your home to the space — and at least once access point from your yard to the space. While access points primarily serve a practical purpose, an ornate central staircase or other access point can also be a stylistic focal point. In almost every case, the larger and more multifaceted your outdoor design is, the more complicated the entryways will need to be.
How Do You Want to Light the Space? — A subtle but nuanced choice to make, once you start to have an idea for the shape of the space and how you'll spend your time there, you can start planning how to light it. Planning mounted or hanging lights above key features in your outdoor living space design allows you to highlight these areas, while making sure you can use them well into the night. In addition, building a lighting perimeter is one of the most popular ways to illuminate an outdoor living space.
What's Your Aesthetic Style? — The final question you need to answer when deciding how to design your outdoor living space is what your style is. Modern, contemporary, and rustic are the primary styles you'll see in today's outdoor design. The overall sense of style determines your color palette, your material choices, and even the shapes used in the design. The good news, though: you're not locked in to any one style — you can pick and choose all of your favorite elements and bring them together in your project!
If you're still finding your unique outdoor style or you're adding to your wish list, we recommend looking through our deck project gallery, complete with 200+ finished projects. Get inspired right here!
See Your Design with a FREE 3D Rendering
One of the most powerful tools in our outdoor living design arsenal is our 3D deck design software. These rendering tools allow our designers to show you a realistic rendition of your home — complete with the finished outdoor living space of your dreams.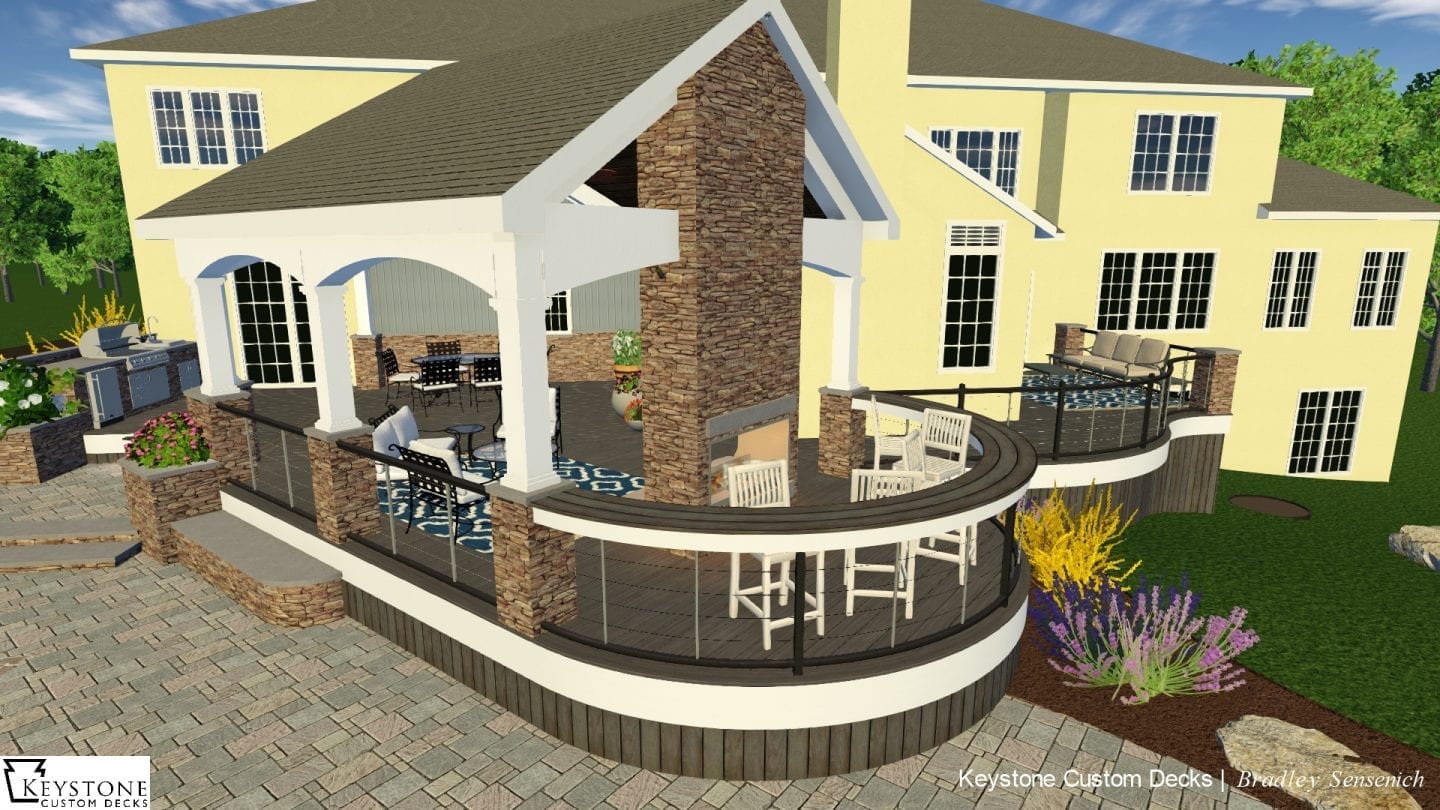 This is an absolutely essential design tool since it highlights both the large and small details of your project. Before you ever sign a contract and before a deck board is ever cut, you want to be guaranteed you'll love your new space — that's why we include a free 3D rendering with every quote.
Bring Your Outdoor Living Space Design to Life
Every deck, porch, and patio we build begins the exact same way: with a conversation. If you're interested in bringing your outdoor living space design to life, reach out and start the conversation with our team. Our skilled designers will collaborate with you to create a space that you'll love for decades to come.
Contact us for your free consultation and for your FREE 3D rendering today!